Fortinet FortiGate 3810A-DC

Unified Threat Management Solutions
8 x GE RJ45 ports, 2 x GE SFP Slots, 2 single-width AMC slots, and 2 x double-width AMC slots, dual DC power supplies
FortiGate-3810A-DC – CALL US For Price
Fortinet FortiGate-3810A-DC Firewall
- 8 10/100/1000 ports, 2 SFP accelerated ports, 4 AMC slots, and dual -48VDC power supplies
---
Fortinet FortiGate-3810A-DC 8×5 Enhanced Bundle, 1 Year – CALL US For Price
*Includes Hardware Unit, Return and Replace, Firmware Upgrades, 8×5 Enhanced Support, Antivirus, IPS, Web Content Filtering, & Antispam
---
Fortinet FortiGate-3810A-DC 24×7 Comprehensive Bundle, 1 Year – CALL US For Price
*Includes Hardware Unit, Advanced Hardware Replacement (Next Business Day), Firmware Upgrades, 24X7 Comprehensive Support, Antivirus, IPS, Web Content Filtering, & Antispam
---
Overview:
The FortiGate-3810A integrates multi-threat security into an expandable appliance ideal for high-performance enterprise gateway and Managed Security Service Provider (MSSP) implementations. It supports up to four (4) FortiASIC™-accelerated 10GigE interfaces and offers four (4) Advanced Mezzanine Card (AMC) expansion bays, making it the most modular and flexible appliance in the FortiGate line.
FortiGate-3810A Benefits:
Large-scale deployment support with the highest levels of content-inspection performance available in an appliance.
Two (2) ASIC-accelerated SFP interfaces offer wire-speed small packet performance.
Four (4) AMC expansion bays offer maximum appliance-based expandability and configuration flexibility.
Supports ultra-high throughput with optional hardware-accelerated 10-Gigabit Ethernet ports.
Supports local logging and content archiving with optional storage module.
Redundant, hot-swappable power supplies minimize single-point failures.
Complement or upgrade existing security infrastructure by enabling only the services needed.
Segment network by customer, business unit, or any other logical division for more control with support for up to 500 virtual domains (VDOMs).
Available FortiManager and FortiAnalyzer integration simplifies security management, reporting, and analysis while reducing operating expenses.
FortiGuard Subscription Services deliver automated, real-time, and up-to-date protection against security threats.
High Performance Enterprise Network Security:
FortiGate enterprise security solutions deliver next-generation firewall technology and multi-threat protection integrated into cost-effective security platforms that effectively block blended network threats. Point-product security solutions do not provide protection against a new breed of blended threats that utilize a multitude of attack vectors. Furthermore, assembling an array of point products is costly and requires significant expertise to engineer, maintain and manage. FortiGate solutions cost-effectively deliver complete multi-threat protection against: unauthorized access, intrusion attempts, viruses, worms, trojans, spyware, phishing attempts, spam and other types of content-based and network-based threats.
Industry-Leading Unified Threat Management (UTM):
Fortinet incorporates ICSA Labs-certified UTM functions into a single ASIC-based appliance that is simple to install and manage. Stateful firewall, IPSec and SSL-VPN, intrusion prevention, antivirus, antispam, and Web filtering features combine to form a complete enterprise-focused network security platform that offers compelling total cost of ownership.
| Key Problems: | Solutions: |
| --- | --- |
| Holes left open in corporate firewalls for applications are commonly used to attack network resources and users | FortiGate appliances prevent successful attacks through commonly allowed applications including: email, web-based applications, instant messaging and VoIP |
| Remote access threatens the secured perimeter, allowing threats a direct conduit into the private network | FortiGate appliances enforce the secure perimeter model by inspecting traffic for network-level and content-left threats after termination of the encrypted tunnel and before being allowed onto the private network |
| Standalone intrusion prevention products do little to protect networks from the abundance of file-based threats commonly found in email attachments and instant messaging downloads | FortiGate appliances intelligently integrate firewall, intrusion prevention, antivirus, Web filtering, antispam and application controls together for the best threat protection possible |
| Managing multiple security products and extracting value from the purchases is increasingly difficult in the face of shrinking budgets and dwindling technical resources | FortiGate appliances combine essential security technologies into one cost-effective unified solution, which eases strains on resources while also reducing complexity, space and power consumption requirements |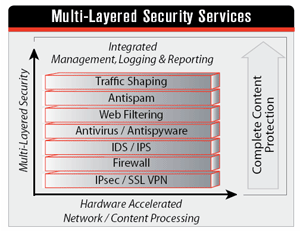 Fortinet's Multi-Layered Security Solution:
Fortinet's multi-layered security solutions efficiently and economically provide an integrated set of security services in a single, easy-to-manage high-performance appliance that is capable of supporting a wide range of deployment scenarios. In addition, FortiGuard Subscription Services include everything from technical support, antivirus updates, antispyware, antispam, and Web content filtering to ensure that your security environment remains current and your corporate resources are protected against the latest blended threats. FortiGate systems come with a one-year limited hardware warranty and 90-day limited software warranty.
*Harga price list dapat berubah sewaktu-waktu.
*Harga masih negosiabel.
*Harga istimewa untuk proyek atau reseller.
*Harga belum termasuk pajak dan biaya kirim.